Farley Video Tour
If you'd like to find out more about Farley, this handy walkthrough tour takes you around each room in this Peak District Cottage.
As well as showcasing the spacious and comfy rooms throughout the interior, it also lets you see some of the views you enjoy out from the cottage across the holiday village.
---
Cottage Features
Fitted out with cosy furnishings and modern appliances throughout, Farley cottage includes everything you could possibly need to enjoy a stay with us at Darwin Lake.
On the ground floor, you enter into an entrance hallway, which breaks up the two downstairs spaces of the cottage. To the right, there is a large king-size bedroom with ensuite. Then, on the other side of the hall is the cottage's open-plan living area.
This large space winds round the cottage and includes a comfy lounge area and a superb dining table and chairs. There is also a strikingly-contemporary kitchen with striking granite worktops, which features key appliances like a dishwasher, microwave and fridge-freezer.
From the hallway, the stairs wind up to the two upstairs bedrooms. These are both ensuite, with one twin and one king-size; although these can be switched about between twin and king-size.
Throughout the cottage, there is lots of high-end furniture and storage space, leaving you free to really make Farley cottage your home whilst you stay herein the holiday village.
Sleeps 6 (3 bedrooms, 1 ensuite bathoom, 2 ensuites)
Linen & towels included
Electric oven and hob
Appliances include fridge-freezer, dishwasher, washing machine and microwave
TV in lounge
Electricity & heating included
Designer interior
Open-plan spaces
Cots and high chairs available upon request
BBQ available upon request
Saucedhere.co.uk - new collaboration of approx 40 local producers, farmers & businesses to provide supermarket style delivery of 1250+ Peak District products
To check Hot Tub availability, feel free to get in touch
Check Availability
Cottage Location
Farley sits on the edge of the ancient woodland treeline that adorns our village. It can be found on the edge of a row of three cottages, which also includes Ashover and Beeley.
Offering calming views of our quaint Holiday Village – as well as one corner of Darwin Lake – the spot really immerses you in the peaceful surroundings of our village.
More about the village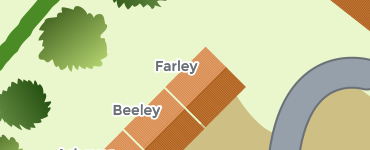 Get in touch
Fill out our contact form and a member of our team will get back to you.
Visiting The Peak District
The stunning Peak District National Park remains one of England's top tourist attractions. A place of outstanding natural beauty, it includes seemingly endless places to explore for outdoor activities and is a haven for walking, climbing, hiking and cycling. From picnics in tranquillity, to hikes across demanding terrain, there is something to satisfy every taste here. Nestled outside the village of Two Dales, our Holiday Village at Darwin Lake is the perfect base from which to explore it all.
Covers more than 555 square miles
Brings more than 22 million visitors each year
Stretches into Derbyshire, Yorkshire, Cheshire, Greater Manchester & Staffordshire
Great for outdoor activities
View Local Attractions