Kedleston Video Tour
Our Kedleston video tour shows just how roomy this large cottage is, whilst giving you a feel for the modern décor and cosy furnishings inside.
You will also be able to see some of the views over our village. These are particularly impressive from the first floor. Ideal for a Peak District Holiday.
---
Cottage Features
Kedleston Cottage's charms will leave you feeling completely immersed in our little countryside village at Darwin Lake. The appealing stone exterior and landscaped paving outside work together seamlessly to invite you in for your stay.
As you enter the cottage, the cosy living space opens up to your right. This includes comfortable sofas and a modern LCD TV. There is also an AURA Bluetooth speaker of high quality. Further down the entrance hallway you'll then find the modern kitchen and dining area. There is also a lovely downstairs WC cloakroom.
Designed so that everyone can gather and enjoy great company and food together in one space, the room is full of homely charm. It comes equipped with an extensive selection of modern appliances, as well as plenty of cupboard space and a dining table.
On the first floor, there are then three large bedrooms. These comprise of:
- A double room with contemporary ensuite, offering views to Darwin Hall and the green.
- A roomy twin room, with great views looking over the village lawns and hall.
- A master bedroom, with contemporary ensuite and views over Darwin Lake.
Elsewhere upstairs, there is also a beautiful shared bathroom; as well as charming artwork that adorns the walls throughout the cottage.
Sleeps 6 (3 bedrooms, 2 ensuites and 1 bathroom)
Linen & towels included
Electric oven and hob
Appliances include fridge-freezer, washing machine and microwave
Electricity & heating included
TV in lounge
Modern interior
Open-plan spaces
Cots and high chairs available upon request
BBQ available upon request
Saucedhere.co.uk - new collaboration of approx 40 local producers, farmers & businesses to provide supermarket style delivery of 1250+ Peak District products
To check Hot Tub availability, feel free to get in touch
Check Availability
Cottage Location
Kedleston enjoys some of the best lakeside views our cottages have to offer. Sat amongst the trees and greenery in our village, you can enjoy stunning sunrises and sunsets over the water from here.
Adjoined with Hardwick, these two cottages are perfect for groups looking to stay next to each other in peaceful surroundings.
More about the village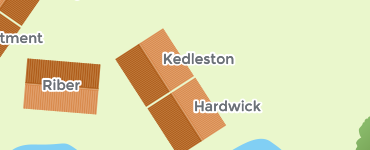 Get in touch
Fill out our contact form and a member of our team will get back to you.
Visiting The Peak District
The stunning Peak District National Park remains one of England's top tourist attractions. A place of outstanding natural beauty, it includes seemingly endless places to explore for outdoor activities and is a haven for walking, climbing, hiking and cycling. From picnics in tranquillity, to hikes across demanding terrain, there is something to satisfy every taste here. Nestled outside the village of Two Dales, our Holiday Village at Darwin Lake is the perfect base from which to explore it all.
Covers more than 555 square miles
Brings more than 22 million visitors each year
Stretches into Derbyshire, Yorkshire, Cheshire, Greater Manchester & Staffordshire
Great for outdoor activities
View Local Attractions